Solar deck rail lights are a popular choice amongst homeowners and renters because they help in finding the railing at night and help in stepping up or down safely in the dark. Not just that, they use green energy that can help you save on electricity bills and provide an elegant glow to your homes.
They have installed rechargeable batteries that will store the energy drawn from sunlight during the day and automatically start working at night. They are not just perfect for railing but also suitable for lighting driveways, outdoor stairways, gardens, sidewalks, stairs, porches, yards, and many more. They will add a festive and party-like decorative look to the environment.
If you are the one who is excited about buying solar deck lights for your railing, then we have prepared a list of the eight best solar deck rail lights that you can purchase in 2023 based on your requirements and the features these lights have.
The eight solar deck rail lights covered in this article are:
Siedinlar SD0115W – 4 Pack Solar Deck
LeonLite Luce Deck Post Cap Light
JACKYLED Long-lasting Solar Lights Waterproof Driveway Dock
SUNFACE Solar Deck Lights
APONUO Solar Deck Lights
LOFTEK RGB Solar Deck Lights
JSOT Solar Deck Lights
XINREE Solar Deck Lights
Top 8 solar deck rail lights to buy in 2023
All these solar lights are from different brands and have different features in terms of the design of the solar deck light, the brightness level they have from LED bulbs, the color they emit, the battery capacity and composition installed in them, the waterproof ratings they maintain, the installation process they follow, the charging time they need, the working time of the light, the sensor they use to detect dusk and dawn, and the warranty they offer.
Material: The material used in this light is aluminum alloy and has a solar panel, LED, and storage battery installed in it.
Wireless: They are easy to handle and have no wiring involved. 
Pressure resistance: They are also pressure-resistant by up to 20 tonnes and will not be damaged if the car runs over them.
Installation: They can be installed using the screws provided with them and will not need the help of an electrician.
Charging time: They can be charged under the direct sun for 6 to 8 hours. It will turn on automatically at dusk and can work for 8 to 12 hours at night.
Waterproof: They also have an IP68 waterproof rating, and they are protected from extreme weather conditions such as high temperatures, rain, or snow.
Warranty: This light has a one-year warranty, and the company provides 24-hour customer support service as well.
Siedinlar solar deck lights are made of high-quality material and come at a competitive price. These SD0115W solar lights, which are white, are appropriate for driveway docks and include an LED light for road markers for steps, sidewalks, stairs, gardens, ground pathways, and yards.
---
Automation: This solar light will automatically turn on at dusk and turn off at dawn without the need to control it manually. It can work for 12 hours at night after full charging.
Lampshade: The lampshade is made with Acrylonitrile Butadiene Styrene, or ABS plastic, which gives it a softer look.
Color temperature: This light emits a soft white light at a temperature of 2700K.
Battery features: The battery is of the NiMH type and has a capacity of 600 mAh.
Working temperature. The light has a voltage of 4.5 and a working temperature of -4 degrees F to 104 degrees F.
Waterproof: The light has an IP65 rating, making it suitable for heavy rains or snow.
The LeonLite Luce Deck Post Cap Light is one of the best deck lights and comes in a white color that is perfect for brightening the walkways and decking areas, which provides a relaxed environment in the outdoor space and a sense of safety when walking in the dark.
---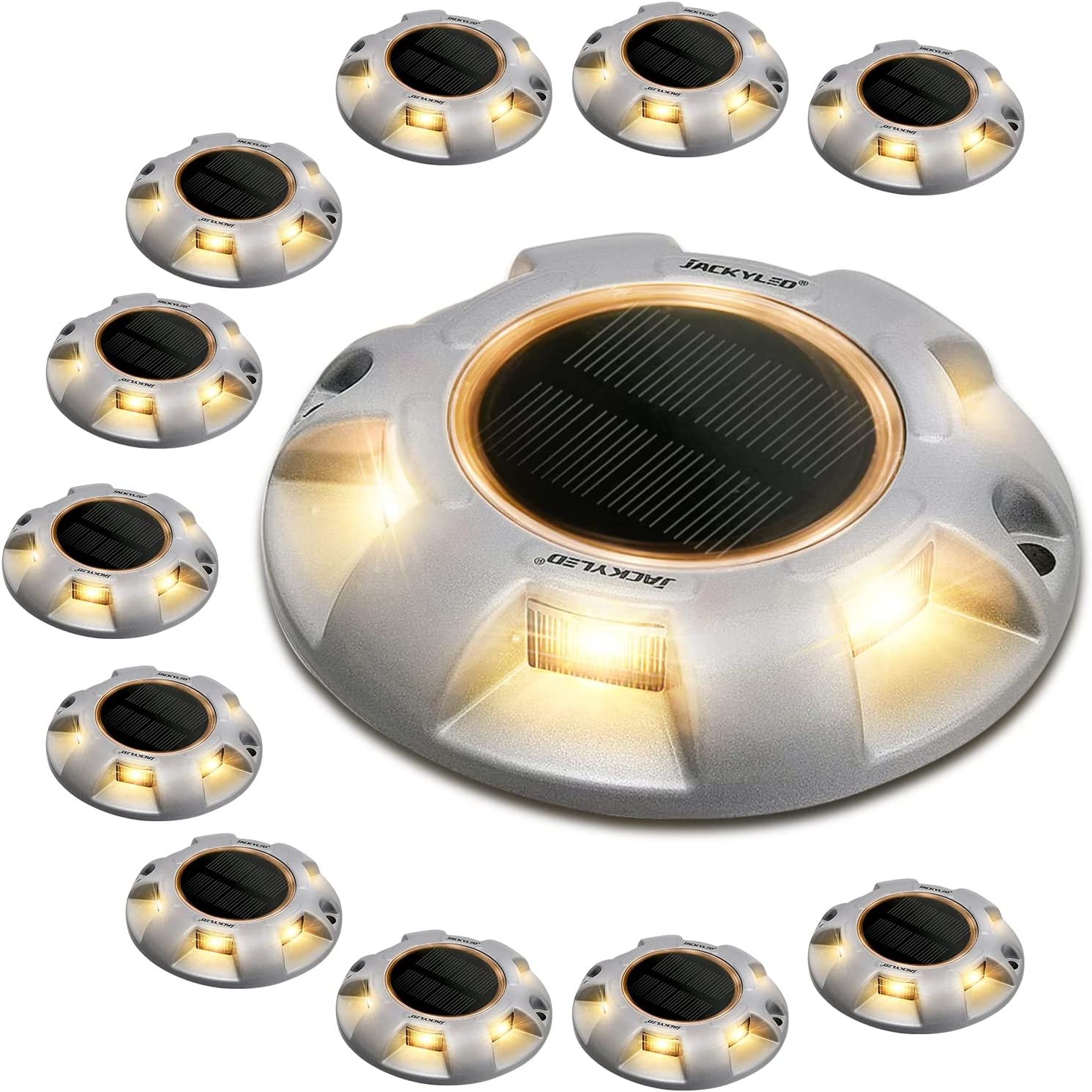 Battery capacity: This solar deck light has a 600 mAh battery capacity, which provides better efficiency and longer life, and also has 6 LED light beads with 30 lumens.
Automated: This light will automatically work, shine up at dusk, and charge during the sunlight.
Waterproof: They are maintaining the IP 68 waterproof standards and use aluminum alloy casing material, which makes the lights protected against any harsh weather such as rain, snow, or any extreme weather conditions.
Working temperature: This light will work at temperatures ranging from 14 degrees to 176 degrees.
Color and size: This solar light comes in white or warm white color in a pack of six, eight, or twelve.
JACKYLED solar dock lights are ideal and waterproof outdoor solar deck lights for driveways, stairs, pathways, walls, railings, and so on, with the added benefit of high solar charging power from its monocrystalline solar panel in just four hours of direct sunlight and up to 72 hours of working time.
---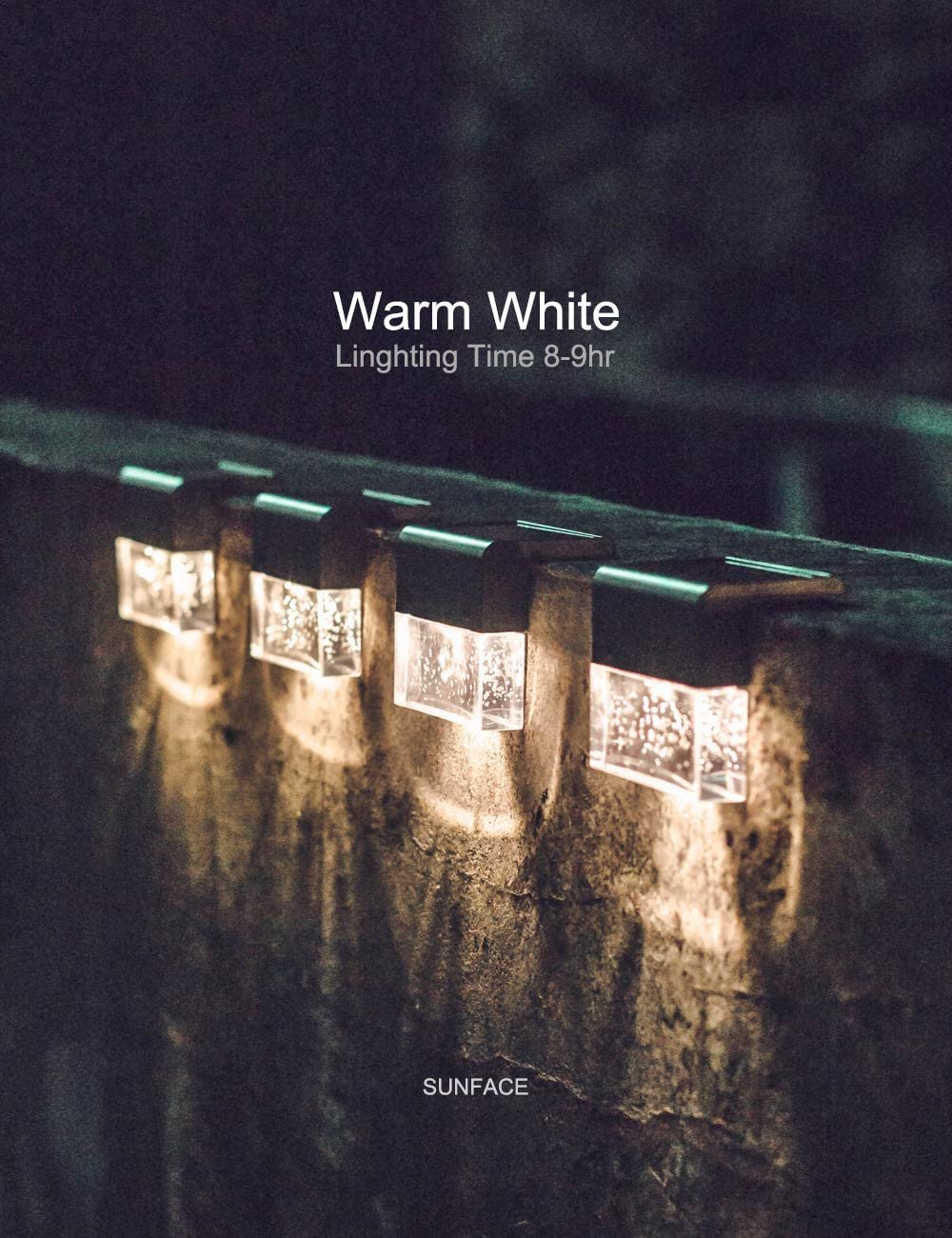 Lighting: The sunface solar lights will come in three modes: warm white light mode, a changing color mode of seven colors, and crystal clear amber light, which turns on automatically at night.
Solar panel features: The solar panel is made up of polysilicon silicon that can convert up to 19.5% of the sunlight into electricity, which ensures longevity.
Waterproof: This solar panel has an IP65 waterproof rating as well as heat-proof features.
Battery features: The battery's cell composition is NiCAD, and it has six AA batteries.
Color features: The two-mode LED bulbs are installed in it and have a color temperature of 3000 Kelvin with an average life of 2000 hours.
SUNFACE solar deck lights are suitable for fencing, outdoor lighting, walls, patios, porches, lawns, pathways, gutters, and garden decoration and come in a pack of six. They can be installed using the screws that come with them and can be placed either on top-mounting or side-mounting.
---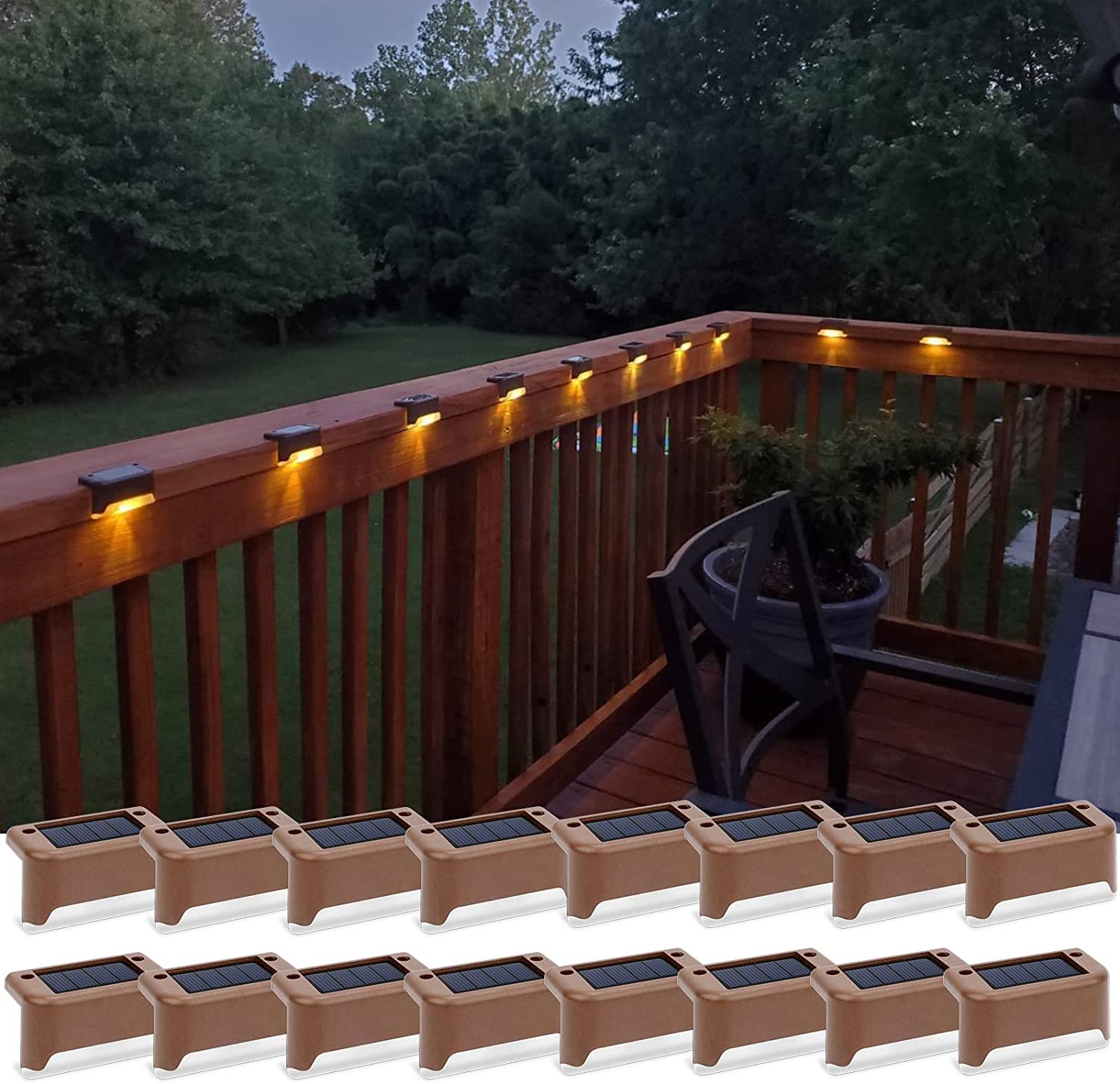 Different colors: This solar light will come in two different shell colors: white or brown, with a luminous flux of 3 lumens.
Easy to install: This light can be installed using the screws that come with it or using a two-sided tape that has an IP44 weatherproof rating.
Solar panels: The company has switched from amorphous (thin-film) solar panels to polycrystalline solar panels, which increase the power output from 10% to 17%.
Battery features: A 300 mAh lithium-ion battery is also installed in it.
Automation: This light will automatically turn on at night and take 4 to 5 hours to charge under the sunlight.
Other services: The company will provide one year of after-sale technical support and 24-hour customer service.
APONUO Solar Deck Lights are one of the best solar deck rail lights that come in packs of 16 pieces and are suitable for steps, yards, fences, deck railings, and stairs.
---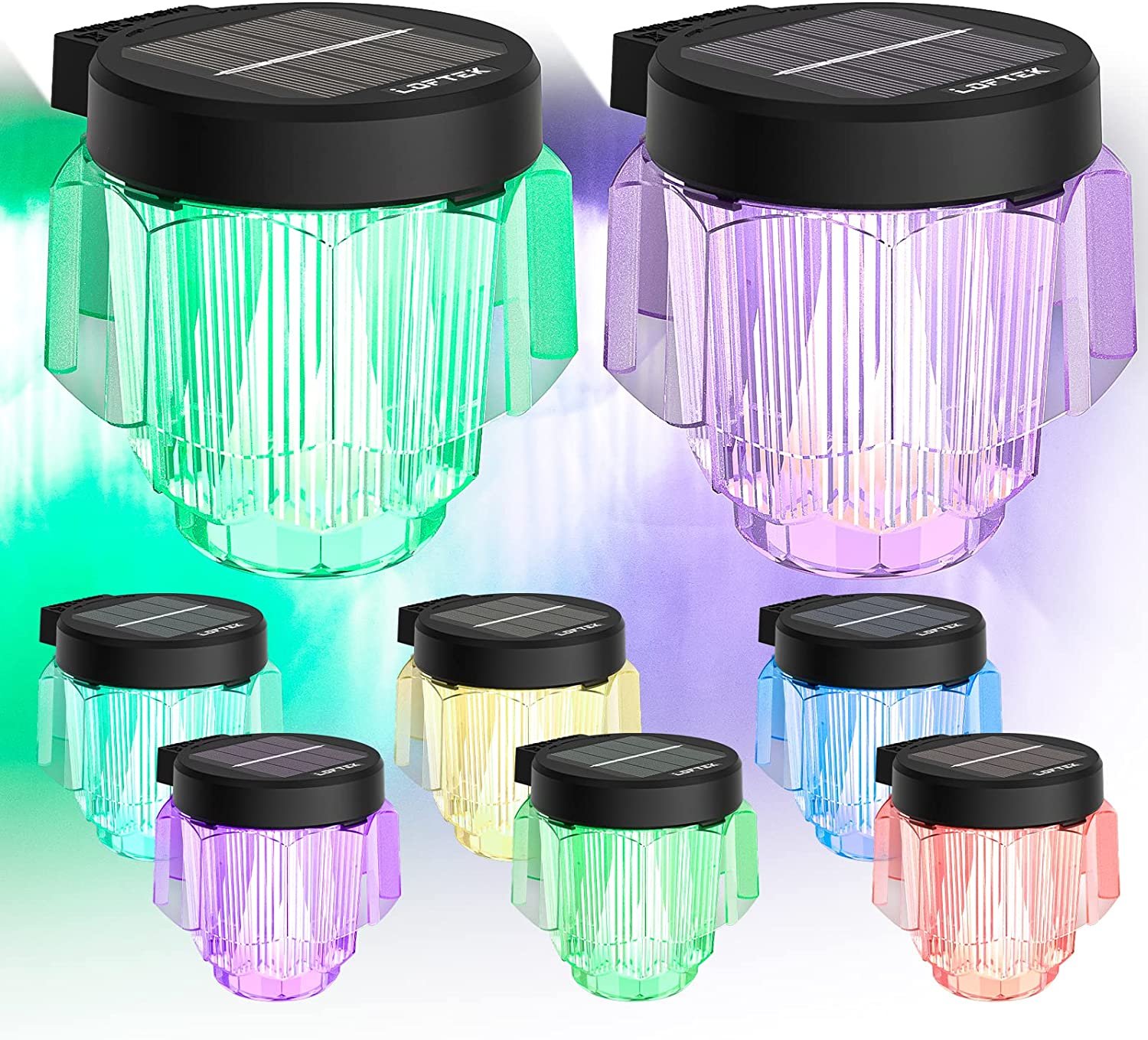 Battery information: This is the best decking light that has an AA battery of 1.2V and seven color-changing modes with a luminous mode of 22 lumens.
Working time: This light will automatically turn on at night and can last for 10 to 12 hours with 6 to 8 hours of direct sunlight charging and high-quality polysilicon solar panels of 0.4 W.
Waterproof level: This light has an IP54 waterproof rating with an ABS material.
Warranty: The company offers six months of free replacement for product quality issues and a one-year warranty with an extension of six months for registered customers.
LOFTEK RGB Solar Deck Light is suitable for front doors, backyards, walls, fences, railings, etc., with seven color-changing modes. The package will include eight solar lights, eight expansion pillar hinges, eight screws, and a user manual.
---
Solar panel: A 2V larger solar panel is installed in them, increasing solar conversion by 18%.The light can work for 8 hours when fully charged in direct sunlight.
Waterproof: The light is made of stainless steel with a high-impact ABS material and has an IP44 waterproof rating.
Easy installation: The light can be installed with just two screws or double-sided tape without the need for any electrician's help.
Color: The light has a LED of 0.2 W in cool white light with a brightness of 30 lumens.
Battery: The light is powered by a 1.2V AAA Ni-MH battery with a capacity of 700mAH.
Service offered: The company offers a 1-year return facility if facing any issues.
JSOT solar lights on deck posts are suitable for fences, gardens, backyards, patios, yards, walls, stairs, steps, railings, terraces, and post lamps. The box will have twelve solar deck lights, twenty-four plastic screw grooves, twenty-four screws, and a user manual.
---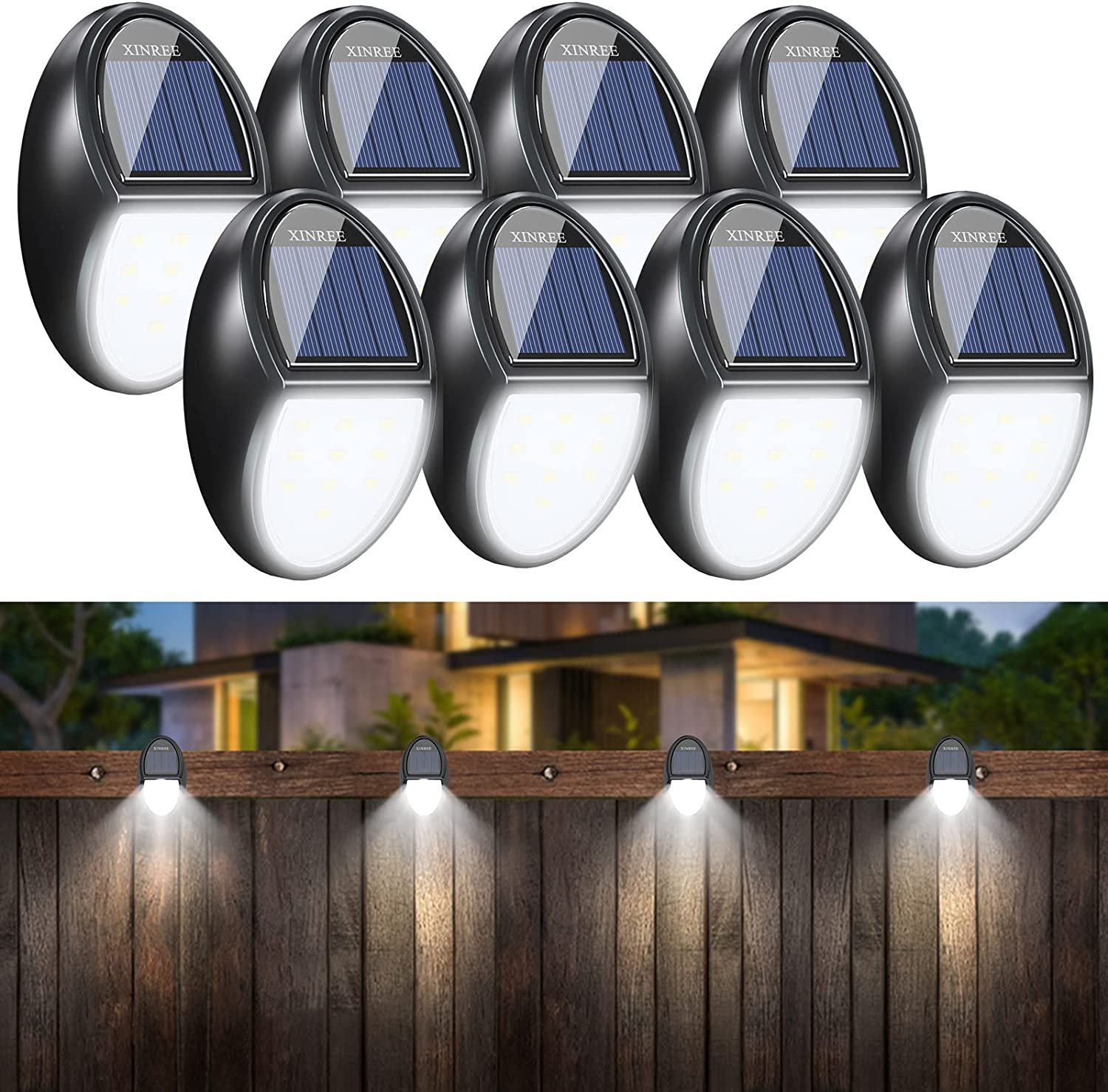 Easy to install: This light is easy to install using screws or double-sided tape, with no wiring involved.
Battery features: A rechargeable NI-MH battery of 100 mAh capacity is installed.
Charging time: The light will take 5 to 8 hours to recharge in the sunlight and can work for 8 to 10 hours at night. The average life is around 1000 cycles of charging.
Color: The light comes in warm white with a color temperature of 6500 kelvin and a color rendering index (CRI) of 82.
Waterproof: The light has IP65 waterproofing and is made with ABS plastic, which is durable.
Warranty: The company provides a two-year service warranty.
XINREE Solar Lights Outdoor Deck Light has ten cool white color LEDs and is the brightest solar deck light with a 250-lumen brightness. They come in a pack of eight lights and are suitable for fences, stairs, railings, walls, porches, pools, front doors, yards, stairs, etc.
---
Conclusion
These best solar deck rail lights are surely the best to choose from for your house railings and other outdoor areas. However, you should base your decision on the material used in it, the weather resistance ability of the light, the efficiency of the solar panel, the battery life, and other features before making a purchase.
Frequently Asked Questions (FAQs)
Do solar deck lights need direct sunlight?
Yes, solar deck lights do need direct sunlight for a minimum of five hours to fully charge and can work for up to ten hours at night. If it does not get direct sunlight because of its placement or weather conditions, then its brightness will be lower and it will not work for the full night.
Where should be the solar lights placed on the deck?
The solar lights should be placed on a deck where they can receive direct sunlight as the sun rises in the morning for their charging. It will help with automated switching off when its sensor receives sunlight and starts charging.
Can solar lights get wet from the rain?
Yes, solar lights that are placed outside in an open area can get wet from rain, which will affect their efficiency. However, there are some standards that manufacturers have to maintain, and they will use the material set by IP44 or IP65 standards. Therefore, you should purchase the one that has these ratings.
What is the lifespan of outdoor solar lights?
The lifespan of outdoor solar lights differs from company to company. But generally, they last for three to five years and can last for more than five years if they are maintained properly and cleaned from time to time.
Do solar lights need batteries?
Yes, every solar light needs a rechargeable battery to store the light that it gets from the sunlight during the day, and this energy is then used at night to light up the area. Solar lights generally use any of the three types of batteries, which are NiMH batteries, NiCd batteries, and Li-ion batteries, each having a different capacity and lifespan.
This article is better than any other article because it has a pointer-wise description of each type of solar light, which helps the reader in quick reading. Also, they do cover some of the important FAQs that are related to the topic.