Solar post lights can be a great way to lighten up your garden using the renewable energy source of sunlight. They can light up your garden and the outside area of your home during the day as well as at night.
Solar post lights are very economical and can save you on your electricity bills. They will contribute to the environment by using the sun's energy, and they will help brighten the garden area of your house on moony or cloudy nights. There will be no wires or cables that you need to light up these best outdoor solar pole lights, which makes them very easy to install. They will also help in giving water to your plants with an adequate amount of visibility or in walking your pet dogs at night.
These types of solar post lights are becoming extremely popular in the US or any other country for their multipurpose use in gardens, patios, and outdoor dining restaurants. They come in a sleek design that provides a classy, stylish, and aesthetic look to the environment and place where they are installed.
Solar lawn lights can help provide an attractive look to your garden, which has flowers, trees, and plants. The solar pool lights help provide the swooping pool, ponds, or fountains in the outside area of your home with a stylish look. A series of solar lights across a patio, porch, or tree can help add a festive look to your house. The solar ground lights can help lighten up the walkways or steps in the garden area.
In this article, you will get a piece of detailed information about the:
Davinci Flexfit Solar Post Cap Lights
Siedinlar SD020 Solar Post Cap Lights
MAGGIFT 12 Pack Solar Pathway Lights Outdoor Solar Garden Lights
GAMA SONIC Triple Head Garden Solar Lamp
Kemeco ST4311AQ LED Cast Aluminum Solar Post Light
TWINSLUXES Solar Post Lights
Dynaming 6-Pack Solar Post Lights Outdoor
SCNYCUL Solar Post Lights Dusk to Dawn Outdoor Solar Lamps
List of Best Solar Post Lights
Solar post lights will have photovoltaic (PV) cells to charge the battery when they get energy from sunlight. The bulb will draw its energy from these batteries that are charged during the average sunlight time of seven hours, and the batteries can be any of the types, which can be lithium-ion (Li-ion) or nickel-metal hydride (Ni-MH).
There are automated light sensors installed in these lights, which make them detect dark and light and turn them on and off accordingly. The lighting time of each solar light is somewhere between 8 and 12 hours at night, depending on how much they have been charged during the day. A low-brightness light will have a longer running time, and a high-brightness level light will have a shorter running time.
If you are looking for solar post lights that are easy to install, work in changing weather conditions, and have a longer life span, then here are the 8 best solar post lights for your garden, lawn, or outside the street that you can install in 2023.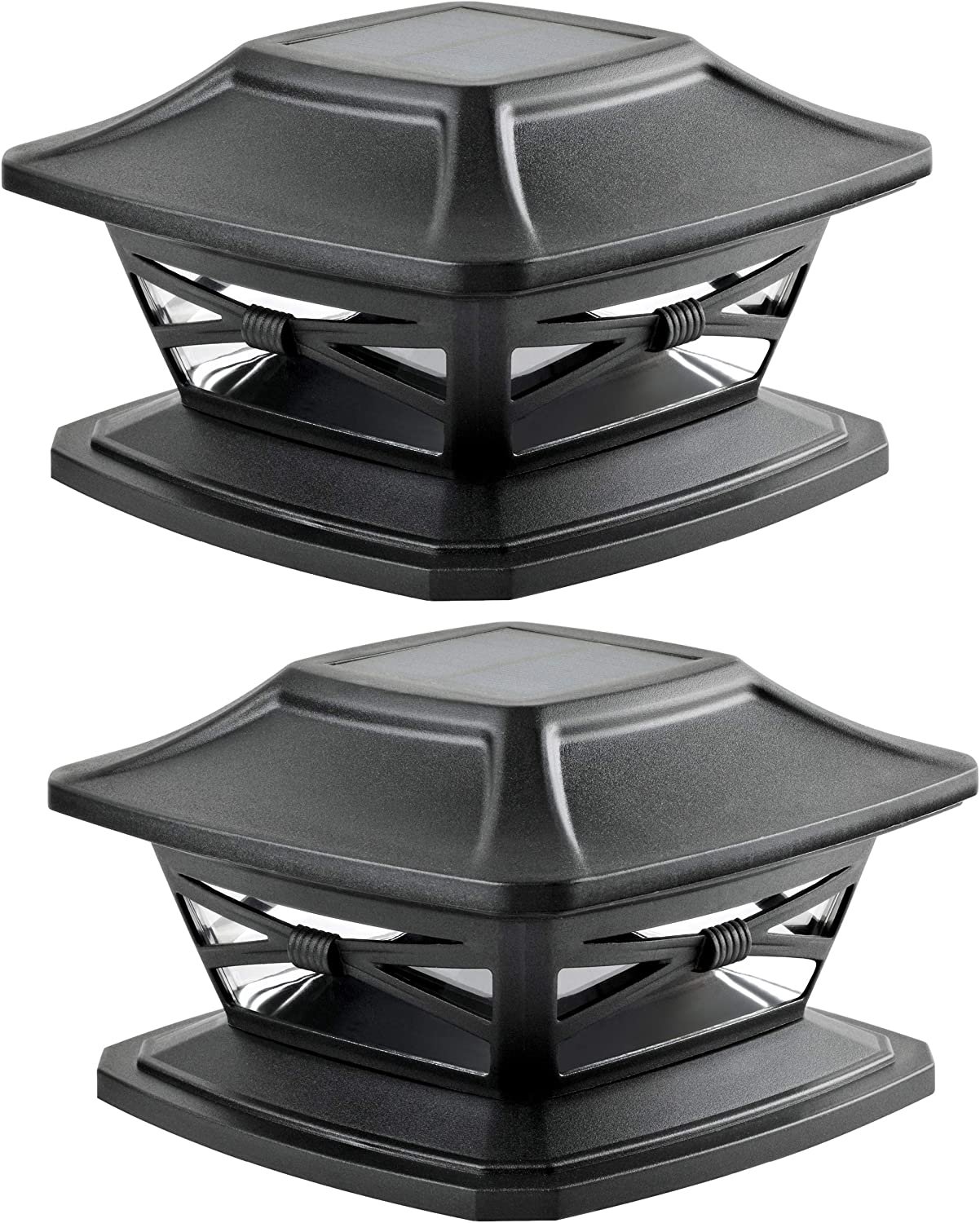 Long battery life – These lights will help in saving energy, and the caps will be charged during the day and will automatically work at night with a battery life of 7 to 8 hours. 
Good brightness level- They are one of the brightest solar fence post lights with 25 lumens of warm white LEDs (Light-emitting diode).
Wireless – These lights are wireless and can be installed without the help of an electrician. 
Available in different sizes – They are available in different sizes that fit in different wooden posts as the brightest solar post cap lights – 4×4, 5×5, and 6×6.
Good quality and great customer service – They have the label "IP44 waterproof rating". They have automotive-grade lithium-ion batteries and plastic with ultraviolet (UV) fade protection. Also, the company has a track record of providing great customer service.
Davinci Lighting is based in Miami, Florida, and is one of the leading startups in the US. They provide various types of best outdoor solar post lights, such as Classic, Cubed, Edison, FlexFit, Premium, and Renaissance, that are simple to install, do not require the help of an electrician, do not require any wiring, and can help you save money.
Pros
25 lumen of warm white LED lights
Battery life of 7 to 8 hours
Easy to install
Fits into different sizes of wooden posts
Automatically turns on night
Available in black or white color
Cons
The solar panel's size in the light is quite small. 
The light will have only an IP44 waterproof rating that can protect it from solid particles up to 1 mm in size and from low-density water that comes from any direction.
---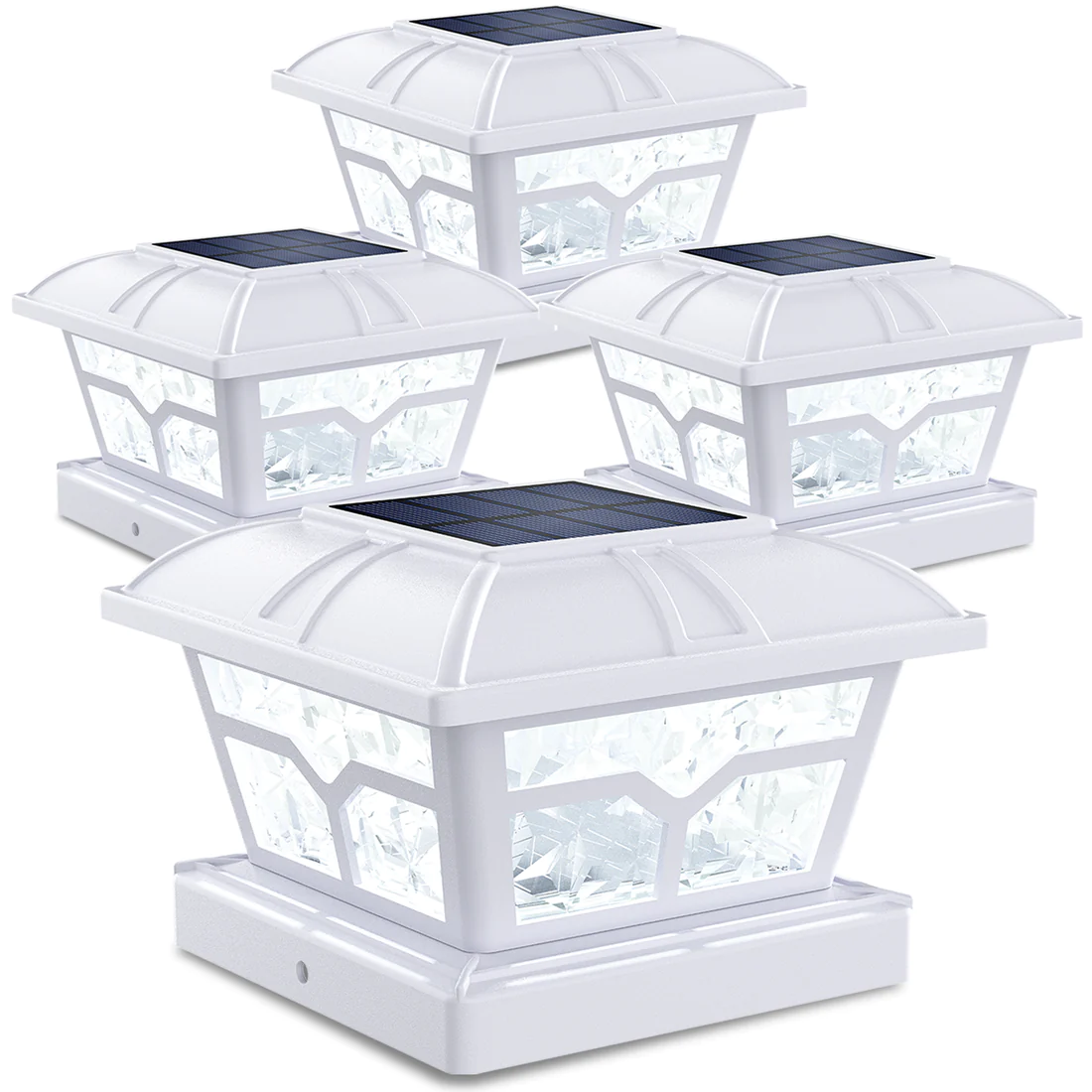 Provides two color modes – These lights are square and have 8 LEDs and two color modes: warm, which produces 3000 kelvin light, and cool white, which produces 6000 kelvin light. 
Simple to use – These solar post top lights can be fitted into different wooden posts of sizes 4×4, 5×5, and 6×6 inches.
Durable –  This best solar light for fence posts is made up of durable ABS (Acrylonitrile Butadiene Styrene), which gives a unique touch to your fence. 
Waterproof – They are also UV-resistant and have an IP44 waterproof rating that can protect the lights from rain and snow.
Siedinlar has around 16 types of solar post cap lights in their portfolio that come with different types of features and benefits. They specialize in great customer service and have competitive pricing for all the products. They always try to use the latest technologies and have more than 10 years of experience in designing and building the best solar deck post lights.
Pros
Beautify the garden
Warranty of 1 year
24-hour customer service
The average life of 12 years.
Cons
Fitting issues may arise.
Thin plastic material is used.
---
Automated lighting- These lights have automated features that will make the light turn on at night and turn off at dawn.
Color – The color of these lights is warm white, which reflects a light of 150 lumens with a color temperature of 3000 Kelvin. 
Waterproof – They have an IP44 waterproof rating that protects them from rain, snow, or frost. 
Wireless – No wiring is present in these solar lights, which can be directly installed into the soil.
Charging time – They will take around 6 to 8 hours to fully charge under direct sunlight.
Working time – They will work for around 10 hours if the battery is fully charged. 
Battery type – These solar lights will have batteries of type AAA with an average battery life of 5 years.
Maggift provides solar pathway lights, curtain string lights, and wall lanterns in this industry. Solar garden lights can be used to lighten up the patio, yard, or driveway. They have a variety of products in their portfolio, such as slate flame post lights, solar garden lights, hanging solar lanterns, solar deck lights, etc.
Pros
Modern style
Easily adjustable
Requires less charging time 
Available in warm white color
There are also RGB (red, green, and blue) color-changing options. 
Cons
The 6-month warranty is not there anymore.
With only one lumen of light, it is not very bright.
---
Photocell sensor – The photocell sensor in these lights will detect the sunlight and automatically turn on at dusk and turn off in the early morning. 
Easy installation – There is no electrical wiring involved, which is perfect for DIY (Do It Yourself) individuals.
Lithium-ion battery – These lights have an internal lithium-ion battery pack, which stores the light for 10 hours after the battery is fully charged.
High brightness – This solar lamp post reviews have mentioned its bright light features.
Gama Sonic provides different types of solar lighting for both residential and commercial purposes. They have been developing and manufacturing high-grade and energy-efficient outdoor solar-powered lighting products such as stylish and sustainable solar post lights, solar path lights, solar lamp posts, solar garden lights, solar yard lights, etc. They offer the best outdoor solar lamp post, which is a Triple Head Solar Lamp and Post Set with a Round Planter that is suitable for pathways, patios, or gardens.
Pros
Great brightness with 90 lumens of output.
Perfect for DIY installation
Gives a classic look to the outside area. 
Battery change in 5 years. 
Only need 4 to 6 hours of sunlight to fully charge.
Cons
Costly product
Needs maintenance
---
Working time – These lights can work for six to eight hours during the night. 
Easy fitting – They can fit on a 3-inch post or flat concrete surface. 
Automated switching and battery size- These lights will automatically turn on at dusk and have a chargeable battery of 3x NiMH 2300mah.
Very high brightness – These high-lumen solar post lights have a brightness of 125 to 145 lumens. 
Structure – These lights have a cast-aluminum metal structure and ripple glass panels, which require little maintenance. 
Warranty – These solar lights will also have a one-year warranty for any defects.
Kemeco Lighting is a solar-powered lighting products manufacturer exporting worldwide, founded in 2003. They offer different types of solar post lights that are the perfect fit for your garden, backyard, patio, or any outdoor location. These outdoor post lights can be easily installed in minutes by anyone in the house. This Kemeco ST4311AQ Aluminum Outdoor Garden Street LED with a 3-Inch Mount Base is the best post-top solar light for the garden, yard, driveway, gate, or any outdoor location.
Pros
Stylish design
Can be installed on any base.
High brightness of 125 to 154 lumens
A warranty period of one year. 
Cons
The outer black color can fade over time. 
Quite expensive
Initially, it needs 24 hours of charging before starting. 
---
Comes in two color modes –  These solar post lights have two color modes, which are cool white and warm white with a 3500 Kelvin color temperature, and also offer some lighting effects for a great look at night.
Easy installation – These brightest solar post cap lights are 5×5, 4×4, 5×6, 6×6, or 8×8 vinyl posts or wooden poles.
High performance – These lights have high performance in terms of 25 lumens for outdoor solar post lights that are powered by solar energy and can automatically turn on at night.
Waterproof – These lights are made of durable ABS material and are IP65 waterproof and heat resistant.
Twinsluxes provides the brightest solar post cap lights, which have a fully automatic photosensitive design and a high rating of IP65 waterproofing. The IP65 rating means that the solar lights are water-resistant and that the water can come from any direction at high density. These solar post lights are specifically designed for fences and will fit in wooden posts measuring 3.5×3.5, 4×4, 5×5, and 6×6 inches.
Pros
High brightness of 20 lm.
It is waterproof to IP44 or IP65 standards.
Automated photosensitive design.
Can run for 8 hours at night.
Cons
Can be suitable only for fences. 
Need to charge 12 hours for the very first time. 
A warranty of 1 month only.
---
360-degree glow – These lights come in a set of six modern or best deck post lights, each with an 8-watt warm white SMD LED, making them ideal for providing a 360-degree glow in your garden.
Charging time – These lights will fully charge in direct sunlight for 6 to 8 hours, and each light will have a 1000 mAh NI-MH AA rechargeable battery.
Brightness – These lights have a light brightness of 15 lumens at 3000 Kelvin and are good for outdoor house decoration.
Easy to install – These best solar deck post lights fit on 4×4, 5×5, or 6×6-inch wooden posts and also come with an installation kit. 
Waterproof – These lights will have a waterproof rating of IP44, which makes them suitable for different weather conditions.
Dynaming offers solar pathway lights, solar fence top pillar lights, and solar hanging lanterns. The solar-powered lights come in packs of six and are solar-powered, easy to install, and waterproof.
Pros
Comes with an instruction manual and kit.
Provides a modern look to the area.
Suitable for use in the front or back yard, along a driveway, walkway, or sidewalk, or around a patio or porch.
Also comes with RGB color changing.
Offers multiple options for a walkway, garden, and patio yard. 
Cons
To activate the automated feature, you are required to remove the tab from the back of the panel before charging.
The brightness may be low.
It needs to be fully charged for 12 hours to be used for the first time.
---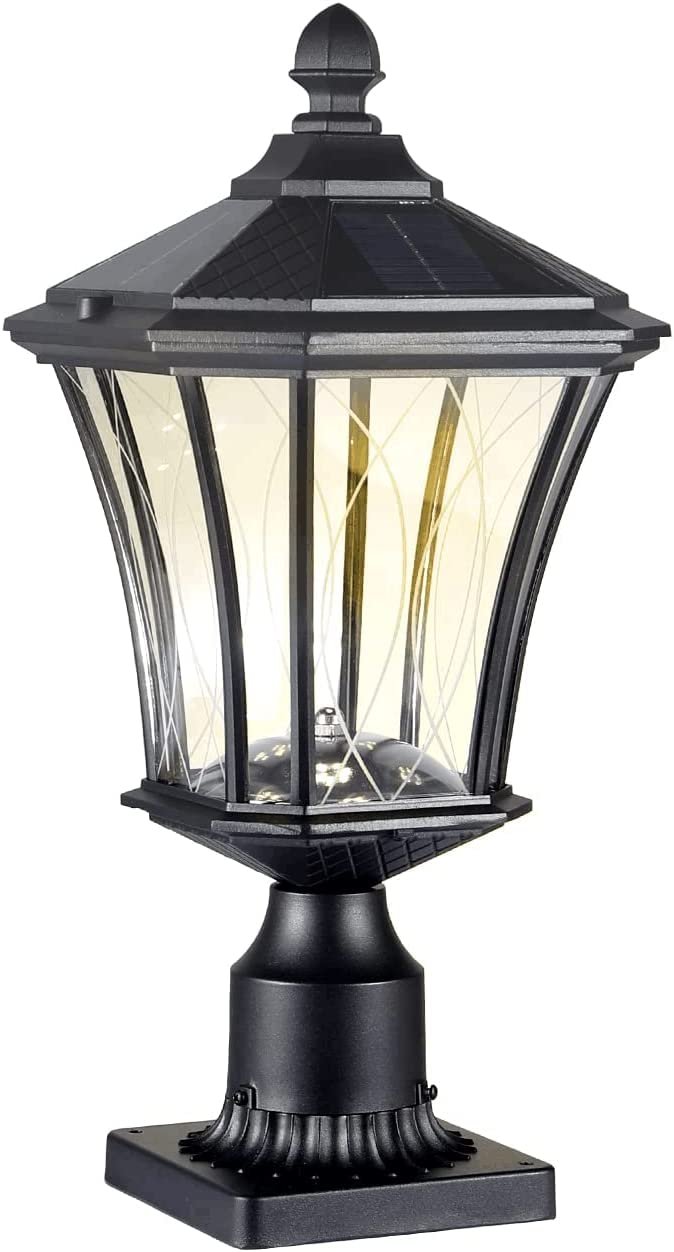 Automated lighting – These solar lights come with a light sensor that automatically turns them on at dusk and turns them off at dawn. 
Easy installation – The light comes with a user manual and other accessories that make it easy to install without the need for any wiring.
Modern outlook – The thickened die-cast aluminum in a sanded black finish ensures durability and reliability, and the clear glass creates soothing lighting effects, according to these solar lamp posts reviews.
Installed on pillars and columns – These solar lights can be installed on pillars and columns with a 3" diameter post base.
Waterproof – These lights will have an IP65 waterproof rating and an anti-rust metal outdoor post lantern, which makes them suitable for high-wet locations and protects them through rain, snow, or frost.
SCNYCUL offers different types of solar lights, such as conventional wired post lights, solar outdoor post lights, and dusk-to-dawn post lights. These best solar-powered lamp posts are made of high quality and have thick die-cast aluminum. These lights will have one lamp body, one glass shade, one Pier Mount Adapter, one user manual, and one accessory package in their box.
Pros
Modern style
2 years warranty period.
It is perfect for your backyard, courtyard, garden, pathway, patio, post stairs, entryway, and pool.
It comes with a 2-way switching mode between a warm light of 3000 Kelvin and a white light of 6000 Kelvin. 
One lithium-ion battery is installed. 
Cons
Need to charge it for 24 hours before turning it on for the first time.
More suitable for decoration than for brightening purposes.
---
Conclusion
Therefore, you can easily choose from these eight best solar post lights for your garden area based on their advantages and disadvantages. However, you should consider the size of your wooden posts in your garden area, choose from metal or plastic materials, choose from different types of colors and brightness levels, and consider the lighting design, light temperature, waterproof rating, warranty period, charging time, running time, reliability, and durability of the solar lights before choosing one.
Frequently Asked Questions (FAQs)
Are solar post lights worth it?
Solar post lights are and will always be worth it for individuals, corporations, and municipalities because they help save a lot of money on high electricity bills and save the environment with the use of sunlight. There is no need to change the bulbs and fixtures from time to time and buy other needed appliances, such as wiring and maintenance from the electrician. In short, they are a less expensive source of light than traditional lighting instruments. 
How long do solar post-cap lights Last?
A solar post cap light can be in great working condition for 2 to 8 years and is also totally dependent on the quality of the light, the replaceability of the battery, its exposure to different weather conditions, waterproofing ratings, and its maintenance.
Do solar lights shine all night?
Yes, solar lights can work all night for 6 to 10 hours, provided that their batteries are fully charged in the sunlight for 8 hours. They will automatically switch on at dusk when the darkness starts and switch off at sunrise when the light starts coming in, without the need to handle it manually.
Are solar lights OK in the rain?
Yes, solar lights will work when there is cloudy or rainy weather, but they will not be as bright or powerful as when they were charged on a bright sunny day. Along with that, they have waterproof benefits, which make them protected from any damage from rain, snow, or frost.
Can moonlight charge solar panels?
Yes, moonlight can charge solar panels in a small manner because the moon has the same light as the sun. However, even if the moon is shining directly on them and there are no clouds in the sky, the solar panels will charge very slowly. So, you need to charge the solar panels under direct sunlight, and they will automatically light up the solar lights at night.
This article is better than any other article on the internet because it helps in covering all the possible solar lights for the reader and also tries to answer the questions in the FAQ section that come to the reader's mind.