Every household, whether it is an apartment in a city, a cabin in the woods, or a home in the suburbs, should have battery backup devices to help them during power outages. Solar generators are a solution becoming extremely popular and a choice for many people as it helps reduce electricity bills and reduces dependence on the grid. Moreover, solar generators for apartments are compact and easily portable, so it never hurts to have one on your premises. If you are in need of a unit, then we have covered the seven best solar generators for apartments that you can buy in 2023 and their features, pros, and cons.
In this article, you will know about:
Jackery Explorer 1000 Portable Power Station
BLUETTI EB70 + PV120 Solar Generator Kit
EcoFlow DELTA 2 Portable Power Station
Anker Solar Generator 767
ALLWEI 300W Portable Power Station
GRECELL Portable Power Station 1000W
Goal Zero Yeti 500x + Nomad 50 Solar Generator
7 Best Solar Generators to Buy in 2023
A solar generator has a portable power station that can be charged using solar panels. These solar panels will convert the sun's energy into usable electricle power, which is then stored in the battery of the portable power station. This portable power station will later provide electrical power to a wide variety of devices and appliances by releasing stored energy from the battery. The batteries used by these solar generators are generally lithium-ion batteries.
The solar panels will collect the energy in the form of direct current (DC) electricity, but an inverter within the solar generator will change the electricity into the usable form of alternating current (AC) that all home appliances use such as lights, TVs, ACs, etc.
There are several advantages of using solar power portable generators, including the ability to save money, the reduction of the need to use a non-renewable source such as fuel or coal, and the absence of fumes and noise pollution, which can harm the environment and your health. They are also self-sustaining, come in a variety of options, and require little maintenance.
When making a purchase, you should consider the battery capacity and shelf life, the wattage capacity of a solar panel, the number of ports it has, the charging modes it has, the attached solar panel placement, compatibility, and portability, the recharge time it will take, and the warranties it will provide. These seven solar generators will cover all these pointers and help you make an easy decision.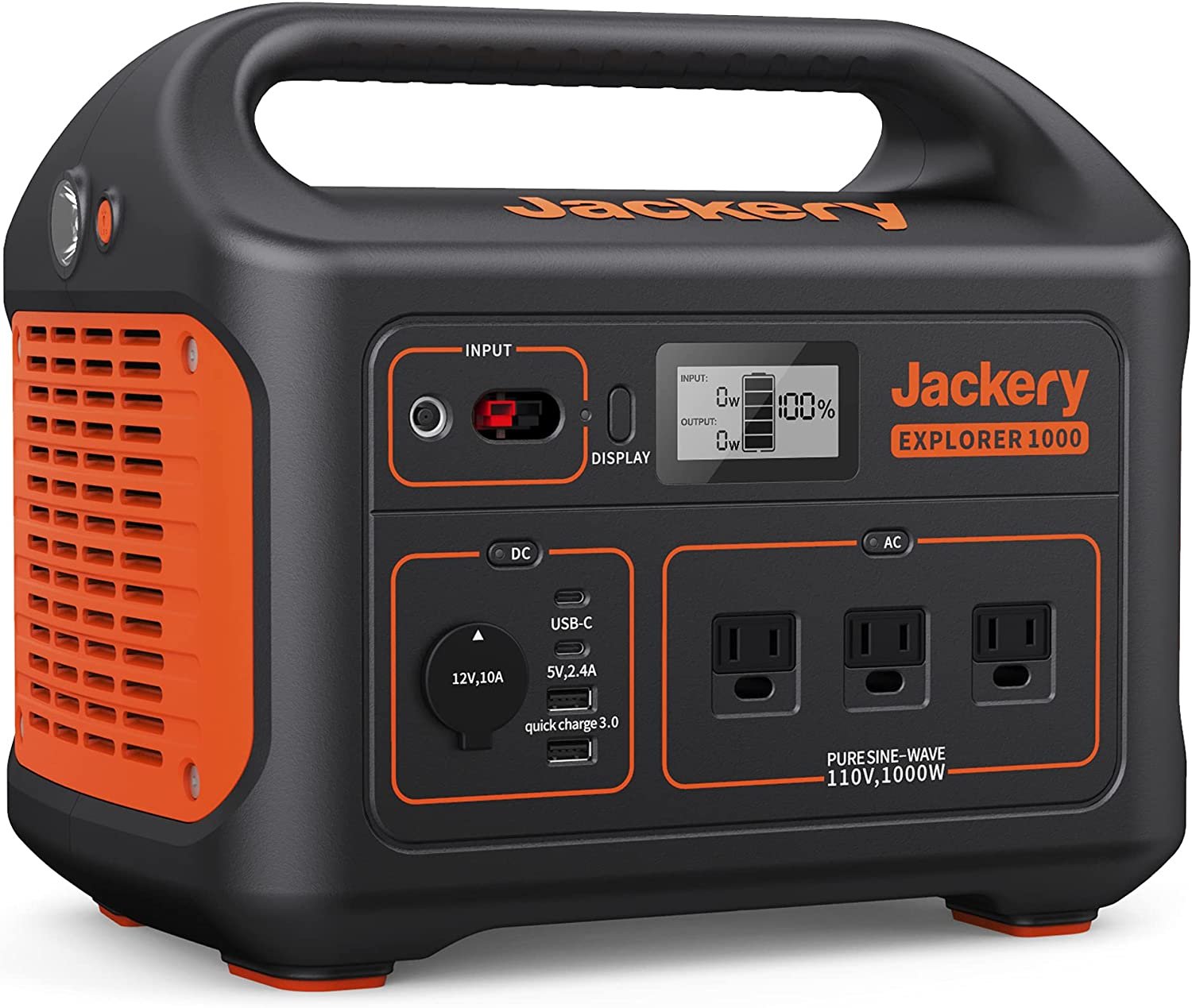 The best all-in-one solution
Good battery life: This small generator for apartments has a lithium-ion battery of 1002 Wh (46.4 Ah) with a life cycle of 500 cycles to 80% or more capacity.
Multiple ports: This has multiple ports with AC output, USB-A output, Quick Charge 3.0 output, USB-C output, car output, and DC input.
Easy to handle: The power station is easy to carry with a weight of 22.04 lbs (10 kg). 
Easily chargeable: It can be easily charged using the two 100-watt solar panels at a suitable temperature of 32-104 degrees F (0-40 degrees C) with the use of an adaptable cable.
LCD screen: It also has an LCD screen that shows the battery life status, charging time, etc. 
Recharge time: The portable power station can be charged within 8 hours using two solar panels. Also, the AC adapter will charge it in 7 hours, and the 12V car adapter will charge it in 14 hours.
Jackery is one of the leaders in the solar industry with its varied products, such as solar generators, portable power generators, and solar panels. They are based in California and started their journey there in 2012. With more than 9 years of experience in this industry, they are tagged as the number one seller and producer of portable power stations.
They make portable solar panels for apartments that are attached to these portable power stations and store the energy in their batteries. These power stations will have an AC outlet, a DC port, and USB charging ports, making them suitable for charging smartphones, laptops, coffee machines, and other mini appliances.
The Jackery Explorer 1000 Portable Power Station is one such great product from their variety of products. It has a capacity of 1002 Wh and can supply 1000 watts of power to different appliances with the use of several ports.
Pros
Can be recharged through different options such as a solar panel, a wall socket, a vehicle's 12V output, and an electric generator.
Warranty of two years.
The total box contains a Jackery Explorer 1000, a car charger cable, an AC cable, a user panel, and a SolarSaga parallel adapter cable. 
No noise and air pollution
Different certifications, such as CEC, DOE, FCC, QC3.0, ROHS, and CA.
Comes with a user manual.
Cons
If only a single solar panel is attached, the charging time can go up to 17 hours. 
Need to separately purchase solar panels for charging it. 
The portable power station should be kept away from direct sunlight, so you need to have a wire attached to the solar panel.
---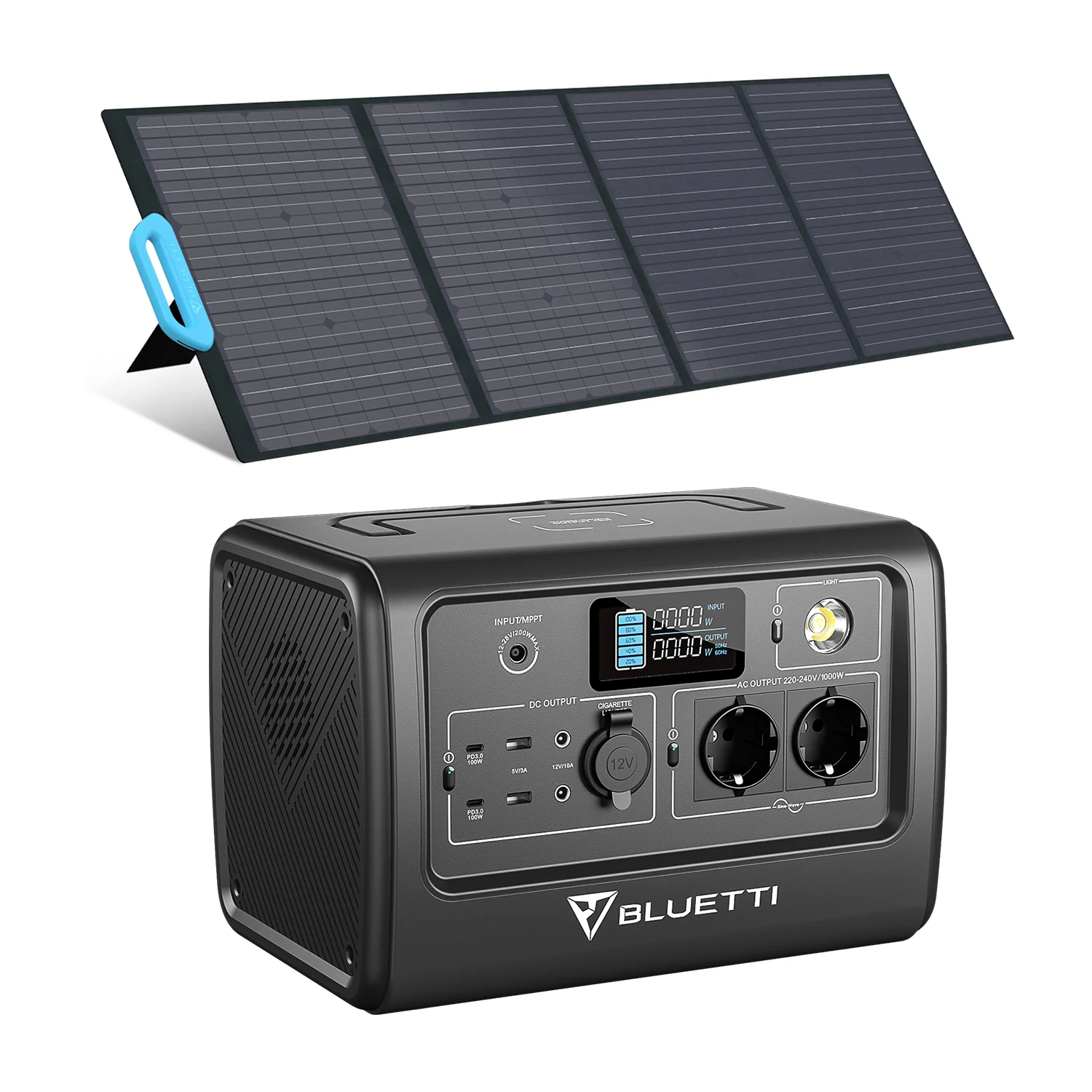 Battery information: This apartment solar panel kit has a battery installed in it with a capacity of 716 Wh (22.4 V, 32 Ah). The life cycle of the battery is 2,500 plus cycles or 80% of its original capacity. The shelf life of the battery is 3 to 6 months when recharged to 80%. The battery type is LiFePO4 (Lithium Iron Phosphate).
Weight: The weight of the generator is 21.4 lb (9.7 kg), which is suitable for campers or hikers.
Multiple output and input ports: They have two AC outputs, two USB-A outputs, one carport, two DC outputs, two Type-C PD outputs, one wireless charging pad, and one LED light. They have AC adapter input, solar input, and car input.
Recharge time: The AC adapter of 200 watts can recharge it in 1 to 4.5 hours, one BLUETTI PV200 of 200 watts can recharge it in 5 to 6 hours, one BLUETTI PV120 of 120 watts can recharge it in 7 to 8 hours, one 12V car outlet of 100 watts can recharge it in 7.5 to 8 hours, and one 24V car outlet of 200 watts can recharge it in 4 to 4.5 hours.
Temperature requirements: The light's operating temperature should be 14 to 04 degrees Fahrenheit (-10 to 40 degrees Celsius), and the storage temperature should be 14 to 113 degrees Fahrenheit (-10 to 45 degrees Celsius).
BLUETTI has over ten years of experience delivering premium solar products in the energy industry. This solar generator kit is suitable for all emergency backup needs and for off-grid solutions. The BLUETTI EB70 is a portable solar generator for apartments that has the latest technology for all essential needs during power outages.
Pros
This apartment solar power kit includes an EB70 power station, an AC adapter, a charging cable, a car charging cable, a solar charging cable, a user manual, a warranty card, and certificate details.
Less recharging time of around 3 to 4 hours using solar panels.
Less in weight and easily moveable 
Have a total of 10 output ports
Good for charging mobile phones, lighting up mini-refrigerators, and using LED bulbs. 
Certifications of CEC, DOE, FCC, QC3.0, and CA Prop 65
Cons
The fan might get loud at times.
Need to purchase a separate solar panel. (You can also buy it as a kit)
---
Full kit: The kit has one DELTA 2 portable power station, one AC charging cable, one car charging cable, one DC5521 to DC5525 cable, one user manual, an app quick start guide, and a warranty card. 
Battery features: The power station has a LiFePO4 battery with a capacity of 1024 Wh. The cycle life is 3000 cycles at 80 plus percentage capacity.
Extendable battery: This power station will support one DELTA 2 extra battery or DELTA Max extra battery of sizes 2 kWh and 3 kWh, respectively. 
Charging time: This will charge very quickly in 3 to 6 hours using one 400W or two 220W portable solar panels.
EPS system: The EPS (emergency power supply) system is helpful in emergencies and will automatically switch on to battery power when there is a power cut. 
Easy control: The DELTA 2 can be controlled from anywhere using the EcoFlow mobile application to check the charging level and manage other settings.
EcoFlow started in 2017 by providing portable power and renewable energy solutions for the smart home ecosystem. The EcoFlow DELTA 2 is the best generator for apartments and homes using green energy.
Pros
This apartment generator has an expandable capacity of 2 and 3 kWh.
The huge AC output of 1800W. 
Mobile application control
Comes with a five-year warranty.
Can support around 15 home devices during a power cut.
Fastest charging time using solar panels. 
Cons
The heavy weight of 27 lbs or 12 kg. 
All ports are not on one side. 
---
Long-lasting: This generator for an apartment has a longer life span of 10 years, along with LiFePO4 batteries with a 2048Wh capacity. 
Multiple ports: An RV port, four AC ports with a wattage of up to 2400W, three USB-C charging ports, two USB-A ports, and two car outlets are there.
Foldable solar panel: There are two 200-watt solar panels with 3-mode angle adjustments that come with IP67 waterproof ratings. 
Products: There is one Anker 767 Portable Power Station, an AC charging cable, a car charging cable, a solar charging cable, a 5-port solar charging connector, an accessories bag, two Anker 531 Solar Panels, two 9.84-foot (3-meter) solar charging cables, and a welcome guide. 
Anker is one of the leaders in charging technology products, be they solar panels or solar generators. The solar generators they make are sold through bookings. This Anker 767 solar generator is the best generator for apartments because it comes with a solar panel. They are suitable for outdoor use, RVs, homes, and professional uses.
Pros
This backup generator for apartments has an RV port.
Smart app control and 30-degree Celsius temperature control
Can support around 12 devices at a time.
Comes with a foldable solar panel and a bag.
Five-year warranty and lifetime customer support. 
Cooling fans with 25% less noise. 
Cons of Anker Solar Generator 767
Cons
Quite heavy
They do not have a sundial.
---
Charging time: This portable generator for an apartment will take 5.5 to 6.5 hours via a 120W AC wall outlet, 5.5 to 6.5 hours via a car charger, 3 to 4 hours via a 100W solar panel in full sunlight, and 6 hours via the generator. 
Multiple ports: They have two 110V AC output ports, one Type-C (PD60W), two QC3.0 fast charging ports, one car socket, and three DC ports. 
Charging power: The system will include a BMS management system, an MPPT controller, and the ability to charge 1500 times or more.
Package: The package will include one 300-watt portable power station, one 100-watt solar panel, one AC power adapter, one AC power cord, one car cable, and one user manual.
Pros of ALLWEI 300W Portable Power Station
ALLWEI has been providing cutting-edge solar panels and related products since 2019. The ALLWEI 300W Portable Power Station comes with one 100W solar panel, a solar generator of 280Wh, a PD60W USB port, a DC AC outlet, and 78000mAh backup power for apartments.
Pros
This mini generator for the apartment has an LCD screen that shows the status of the remaining battery, charge, and output ports. 
Helpful for outdoor uses, RV camping, fishing, and emergencies.
Certifications of ETL, MSDS, ROHS, PSE, and UN38.3
When the generator detects an over-voltage, short-circuit, over-current, low-voltage, over-heating, overload, high-temperature, or low-temperature, it will shut down automatically to protect the attached appliances.
Five-year warranty and 24*7 customer service
Cons
The lower wattage of the generator
Can shut down abruptly
---
Supports 10 devices: This solar power generator for apartments can support 10 devices with a two-way AC socket, three USB QC ports, one USB-C PD port, two DC 12V ports, one 12V cigarette lighter port, one wireless charging port, one LCD screen, one LED light, and one flashlight with SOS mode that can help power your laptops, phones, lights, CPAP medical devices, TV, mini-refrigerator, etc.
Battery Management System: This power station generator will have a BMS that will automatically shut down in the event of a full battery, short circuit, or other voltage fluctuations.
Heat and chemical resistance: The solar panel is designed with 6-layer lamination technology and has monocrystalline silicon solar cells, which are more heat and chemical resistant.
Waterproof: The solar panel has a heat-resistant, and waterproof film on the surface, and an 840D Oxford cloth outer. 
Grecell provides solar generator kits, power stations, solar panels, and other related accessories. The Portable Power Station 1000W comes with a 200W foldable solar panel. The package will include one portable power station, one AC adapter, one car charging cable, one connector cable, a cable storage bag, a user manual, and a foldable solar panel.
Pros
High capacity of 999 Wh.
Compatible with 95% of other power stations.
Two cooling fans with no noise pollution.
LED Lighting in Light Mode and SOS Mode
A warranty period of two years
Lifetime customer support service
IP65 waterproof rating
Cons of GRECELL Portable Power Station 1000W
Cons
These generators for apartments cannot be placed in direct sunlight or rain.
---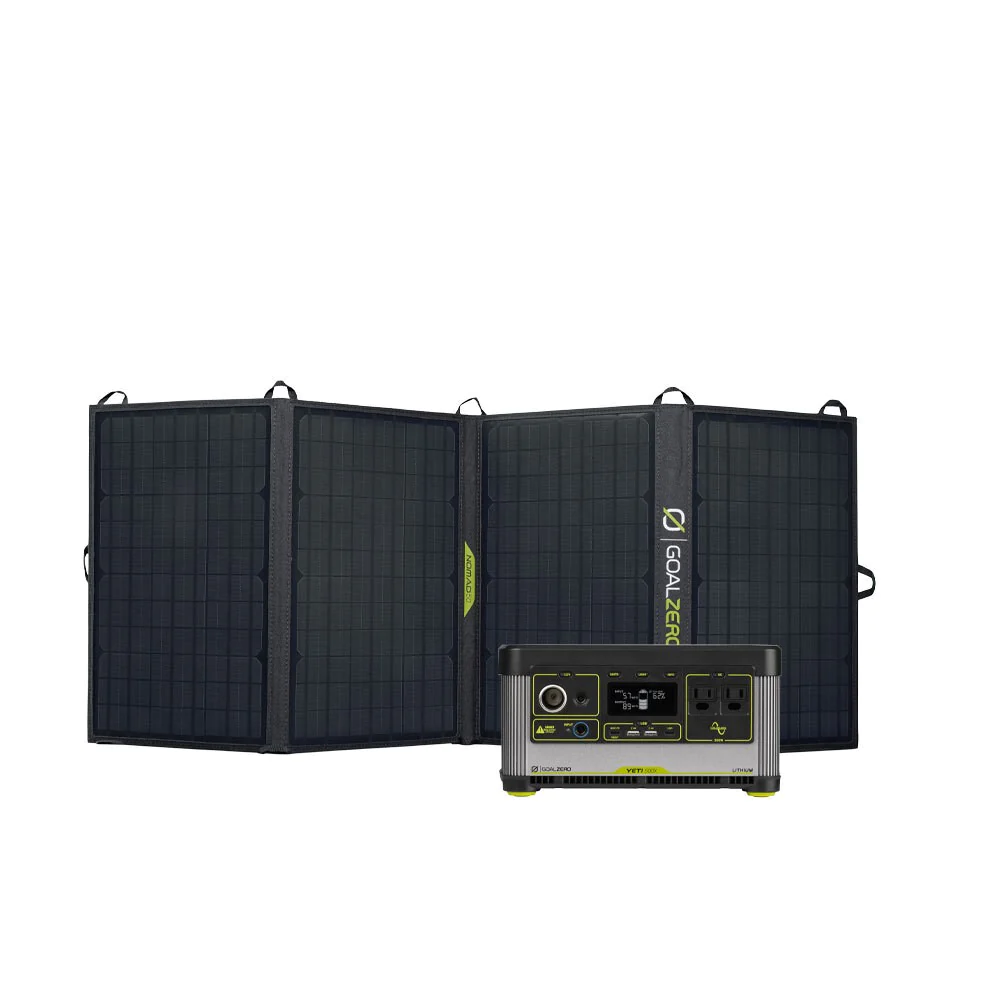 Battery details: The cell chemistry of the battery is Li-ion NMC with a capacity of 505 Wh (10.8 V, 46.8 Ah). The life cycle of the battery is 500 cycles to 80% capacity, and the shelf life of a fully charged battery is 3 to 6 months. This also has a management system for an MPPT charge controller. 
Multiple ports: This apartment generator has multiple ports such as a USB port, a USB-C port, a USB-C PD port, a 6mm port, a 12V carport, a 120V AC inverter, and charging ports.
Foldable solar panel: The four monocrystalline panels come in a protective case that can be folded down for easy storage and versatility, along with hanging loops.
The Yeti 500X power generator for the apartment comes with a Nomad 50 solar panel and can recharge within 12 hours. They can be charged using the foldable Nomads or mountable Boulder solar panels, or with a supply for a full electricity supply in just 10 hours, or with the Yeti X 120W Power Supply to recharge in just 5 hours, or with a car's 12V outlet using the Goal Zero Yeti Lithium 12V Car Charging Cable.
Pros
Multiple output ports
USB-C charging speed
Featured MPPT charge controller 
Lightweight at 6.85 lbs (3.1 kg).
The integrated 8mm cable will help in plugging additional solar panels. 
Two years warranty
Cons
Less wattage capacity
Does not support any other company's cable for a Yeti from a 12V source. 
Conclusion
As you can see from the details of the best solar power for apartment dwellers, there are several advantages to using them in your apartment. Therefore, by looking at the features of each one of them and the pros and cons of each, you can find the one that suits your needs and requirements.
Frequently Asked Questions (FAQs)
Can you use a solar generator in an apartment?
Yes, you can use a portable solar generator in an apartment, along with a window solar panel for apartments. They will help generate electrical energy at the time of power outages for all of your home appliances, such as phones, coffee machines, laptops, refrigerators, TVs, bulbs, and so on, and are very safe to use indoors with no harm to the environment. 
What size solar generator will run a house?
The size of the solar generator for townhomes or any home will depend on your personal choice. However, as a rule of thumb, you should use a generator that is twice the size of an inverter. It means a 1000-watt inverter should be connected to a 4000-watt solar generator for the effective running of your house.
Can a solar generator run an Air Conditioner?
Yes, a solar generator can run an air conditioner, and you should choose a solar generator with more than 1 kilowatt to run an AC. However, it is dependent on whether a solar generator can match the initial surge watts and running power watts requirements of the particular air conditioner, and you should purchase the solar generator according to those only.
Is it worth getting a solar generator?
Yes, it is worth it to buy a solar generator because there are so many power cuts everywhere as well as there is a shortage of non-renewable sources of energy. It will help in creating backup power for an apartment, house, or commercial place. 
Can a portable solar generator power a house?
A portable solar generator will surely power a house, an apartment, or any other outdoor place with the benefit of charging its battery using a solar panel, a car charger, or normal electricity. They are very easy to handle and can be placed anywhere in the house to give electricity to all home appliances such as laptops, video games, bulbs, coffee makers, refrigerators, ACs, TVs, microwaves, washing machines, etc. during the off-grid period.
This article is better than any other on the internet because it helps in providing details on different types of brands of portable solar power generators to the readers, along with the factors to consider while purchasing. Also, it helps the readers solve their queries about them.